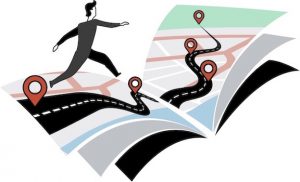 COVID-19 is likely to have a direct impact on our personal lives, our economy, and our businesses for quite some time.  Whether there is a "V", "W" or "K" shaped recovery, most predictions are looking at 2022 before returning to late 2019 levels.  So how do you create an effective (and nimble) strategic plan in the midst of so much uncertainty?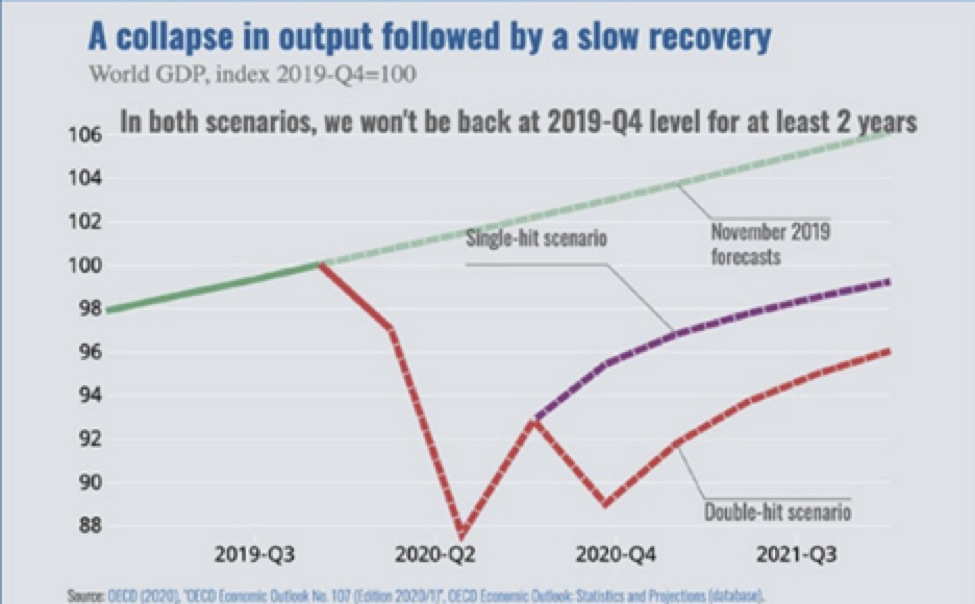 That calls for a major rethinking for any business owner or leader.  Instead of a nimble, short-term, tactical response, a longer-term strategic plan is now critical to survive and even thrive.  In these times, a strategic plan needs to shift from designing for efficiency to designing for resilience.
I have recently conducted several research studies for SCORE https://www.score.org/ (the nation's largest network of volunteer, expert business mentors) on COVID's impact on business owners in April, June and August.  Based on surveys with thousands of business owners and my review of expected trends, I see four steps to rethinking your business strategy over the next two years:
4 Strategic Steps for Entrepreneurs:
Review new and accelerated market trends in your sector due to COVID-19
Refocus on your healthiest customers
Create new offerings (or reposition old ones) to solve current customer pain points
Define and track your success metrics on any new initiative
Review new and accelerated market trends in your sector due to COVID-19
Authors from business, politics, and culture agree that this world-wide pandemic has accelerated trends that were already in process and added new elements that are likely to endure.  In my reading two macro principles stood out:
COVID-19 has forced everyone to adopt new technology for remote communication and commerce.  Before early 2020, we saw the traditional adoption curve with early technologists leading the way.  Lockdowns and social distancing have caused everyone, regardless of age, location, or mindset, to adopt and rely on new tools for communication.  In turn, companies are seeking greater work efficiencies and strategies to monitor dispersed workforces, and manage increased data security risks from hackers and malware.
Social justice, racial justice, and environmental security will continue to be top of mind.  Companies and governments will be expected to have a position and plan to address widening income and racial inequalities.  Employers are being asked to support not only health and safety, but also childcare, mental health, and the environment.  In addition, companies and governments are being called upon to contribute more, especially in historically under-served communities.
Business Trends:  (Sources are cited at the end of this article.)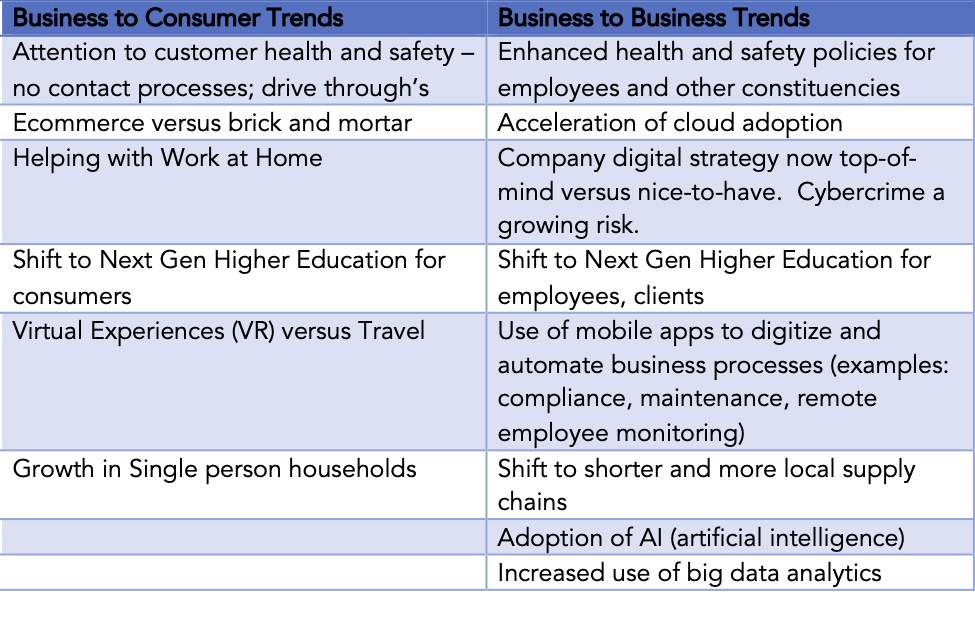 Refocus on your healthiest customers 
Top marketing scholars have been known to point to the advantages of customer segmentation.  By defining and then focusing on the most profitable clients, companies can see an increase in customer satisfaction, profits, and retention.  (In fact, I wrote a short book on this topic.)
But in these times, it is newly important to look at the overall health of your clients and their industries.  The Coronavirus crisis is unique in that there have been big economic winners and losers.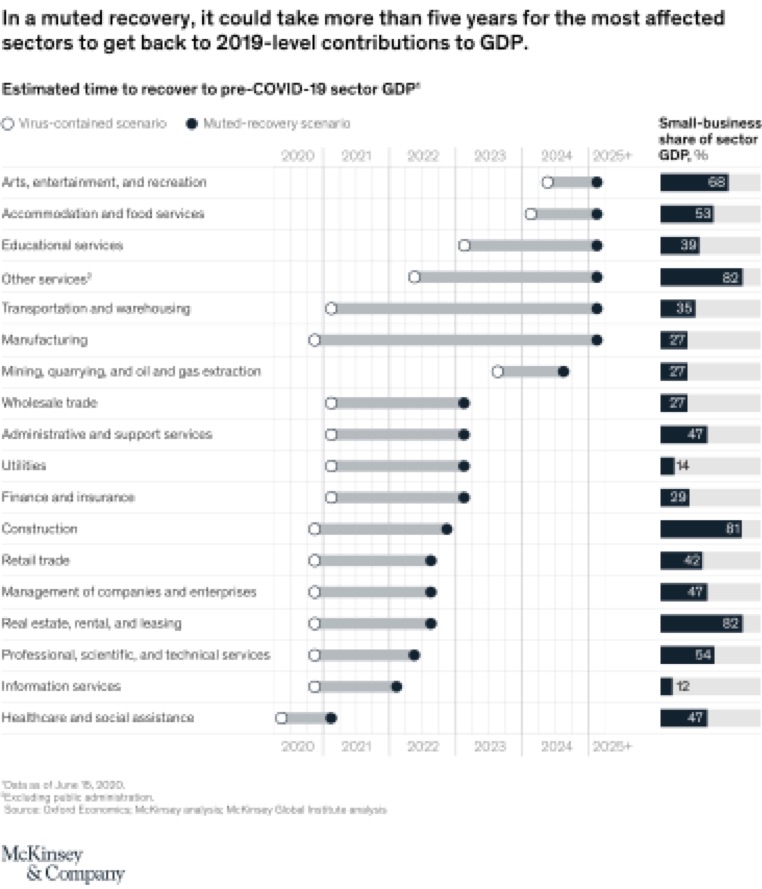 For businesses that are doing well, three "winning" characteristics stick out:
Winners tend to be in product/service areas that are cloud-based or in technology where adoption has been accelerated due to work at home (a trend that is likely to continue post-COVID).
Growing companies tend to have large cash reserves, which allow them to weather lower sales and take advantage of vendors and competitors who are in cash-strapped positions.
Successful businesses often have flexible, innovative leaders who are able to pivot to take advantage of the market disruption.
Likewise, businesses in not-so-good positions are likely to:
Be in industries where close contact and or larger groups are essential for profitability.
Be cash-strapped with tight margins, high amounts of debt, and/or a low ability to renegotiate fixed costs.
Have leaders/owners who are stuck by tradition or position and cannot easily change their business model.
A helpful exercise for business owners would be to classify and rank your customers (healthy, stable, vulnerable) by industry, cash position, and resilience.  This exercise may be especially important when customers who are struggling may not be able to pay you.  Rating your customer portfolio can reveal risks and opportunities.
Create new offerings (or reposition old ones) to solve current customer pain points
One positive outcome that persists in tumultuous times is a boom of "survival entrepreneurship".  During the last big crisis in 2008, several new firms (such as AirBnB and Warby Parker) were born out of a need to solve new problems.
When you rank your customers, consider (or better ask directly) what their priorities are, especially for your healthiest customers.  What are their biggest worries and aspirations for this new reality?
After reviewing customer feedback and market trends, list your own company's strengths.  Where can your firm deliver new value to solve new or existing customer problems or  worries?  Perhaps you will consider changing the way you deliver or price services?  Or you may wish to completely develop a new product or service.
One tool to capture your brainstorming is the Value Proposition Canvas found here https://www.strategyzer.com/canvas/value-proposition-canvas.
Define and track your success metrics on any new initiatives
Once you have defined your top priorities and initiatives, establish a clear roadmap with actions and metrics to track progress.  This should include:
Initiatives with a responsible person assigned for each
The timeline for your plan: 3-months, 6-months, one-year
Your assumptions on the economy, local restrictions due to virus resurgence, industry regulations, etc.
Budget/Resources required
Metrics: What outcomes are expected? How will you measure?  What denotes success or failure?
Sources: