Rate your customers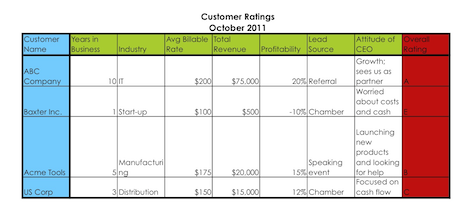 All of us want "better" customers.  These clients love our products/services, spread the word to friends and colleagues, suggest constructive improvements — and pay us well and on time.  Adding more of these A-rated customers means more profits, more innovation, more inspiration, and more growth.
But bottom-tier customers can have just as dramatic an impact on the sustainability of your business.  They complain constantly about your product/service, your people, your pricing – and then they refuse to pay.  They cut deeply into your profits and the psychic energy of your people and you as owner.  Dropping these E-rated customers actually saves you money and time and frees up your energy to focus on gaining better customers.
A simple, yet revealing exercise is to rate your current and past customers.  Create a simple spreadsheet or table with the names of your current and past customers in the first column.  Next decide from the list below key rating characteristics:
Customer Demographics
B2B:  Years in business, Industry, Company Revenue, Number of Employees
B2C:  Age, Gender, Income, Ethnicity, Life stage
Financial Impact
Billable hours
Average Hourly Rate
Total Revenue
Frequency of Purchase
Size of Purchase
Product / Service Purchase Mix
Lead source (how did they find you? Referral, Groupon, SEO, etc.)
Profitability
Interpersonal/Personal Fit with Your Company
# of Referrals/recommendations for new customers for your company
Attitude (for B2B this would be the decision maker or CEO): easy to work with, growth oriented, values paying for quality
After collecting all of this information, create an overall Customer Rating.  For some this may be an objective mathematical compilation of the previous columns.  For others it may be a subjective evaluation once you view the information and reflect on the relationship.  Typically, A-rated and E-rated customers quickly pop out.  You can then judge the others as "B", "C", or "D" clients adding comments on ways they may move up (or down) in ratings.
You may also gain additional insights into what decisions will help create growth.  For example:
Do certain lead sources produce better customers?
Are certain product/service mixes more profitable – with happier, better customers?
Do you need to create a "threshold" or minimal size sale to attract better customers?
Are certain demographics (income/revenue, industry, etc.) indicative of "better" customers?
After doing this exercise, reflect on the big "aha's" in the Comments section below or on Facebook.
Next Week – Part 2: Getting Rid of "E-Rated" Customers
Two Weeks – Part 3: Attracting More "A-Rated" Customers