What is it about the New Year? I always feel that same odd combination of reflection, anticipation and restlessness. Like all of you, I create resolutions and goals for my business and myself. That's the easy part.
The tough part is during the weeks and months to come, when daily tasks and information overload drown out the clear-eyed vision and hope I have for this New Year.
So each year I look for a new way to keep myself inspired while focused on the end goal. This year my inspiration came home with my college son who showed me the photo above of his suitemate's dorm wall. Quickly it is clear who this person is and what is important to him. It is also clear that absolutely nothing will stop him from getting to his goals.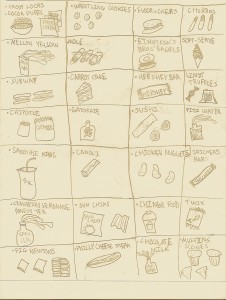 Inspiration walls can also help you get through the tough times. Here is my middle son's inspiration wall during wrestling season weight cutting.
The beauty of an inspiration wall is that you can combine words, images, numbers – whatever speaks to you. You can create your wall physically or digitally – although I prefer something tactile and real. (Here is a Tumblr link for ideas and inspiration.) Here are a few simple steps to create your own inspiration wall in less than an hour:
Sit in a feel-good space armed with sticky notes and a pen. Perhaps you will want to play your favorite pump-up music. Perhaps you prefer classical music or silence.
Put these questions in front of you to focus you on the task at hand:

What is important to me? What values do I want to always keep in sight?
What new skills, experiences, and achievements would I like to complete in the New Year?
What is limiting me right now? Is there something I can do to change that?
What are the goals for my business? What are the few activities that could really make a step change in outcomes?

Set a timer for 10-20 minutes and write as quickly as possible all the ideas and thoughts that come to you with one idea per note. Do not stop to organize or edit or evaluate in any way.
Look at your notes and group them by similar theme.
Consolidate into a reasonable number of notes – probably no more than 20.
Create attractive visual cards or images or just clearly written reminders.
Tack the cards on a bulletin board or directly on the wall of your workspace. (Make sure the location is one within your line of sight in your daily work.)
May this New Year be Inspired and Successful for you and your business.